Health and Beauty
Llandeilo town nestles in the lush Towy valley surrounded by its natural beauty. Residents and visitors alike can reflect and absorb the town's essence within its hair, beauty and wellbeing sources. Llandeilo has several establishments which offer different services with a plethora of skilled professionals. The services offered in Llandeilo range from creative colouring and cutting, manicures and pedicures, Waxing, luxurious facials and massages, holistic therapies, reflexology, aromatherapy and even Tarot Card reading.
More:
Latest News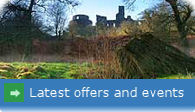 ---
Love Llandeilo? Visit the Love Llandeilo Facebook page

---
Half term events at Dinefwr Park 14th - 22nd February 2015, click here for more information

---
Themed Walks A series of six themed walks have been created to encourage access to the Tywi Valley click here for more information

---
Recent Additions to the website
The Loft
William Wilkins
Popty Patagonia Bakehouse
Andrew McCutcheon
RELM Wear
Kate Glanville
---
If you come across anything out of date on this site, please email us: info@visitllandeilo.co.uk thanks.