This page has information for residents in and around Ffairfach who are interested in getting gigabit-capable broadband (aka 'fibre to the premises').
This is being achieved through the Broadband Upgrade Fund:
To ensure the hardest-to-reach areas are not left behind and can access improved broadband services, the government has introduced a pilot campaign for homes and businesses in three rural areas of the UK, called the Broadband Upgrade Fund, as part of the national Gigabit Broadband Voucher Scheme. The aim is to help capture public interest in faster, more reliable broadband in each of the pilot areas. This will encourage suppliers to extend their broadband networks to meet demand and the government will help to fund the cost of the work. There is also an active Facebook group which has more information about this scheme and what is happening in Ffairfach: www.facebook.com/groups/742005249702155
More information about the Broadband Upgrade Fund
---
Updates:
24th January 2021
There are currently two potential suppliers to provide improved broadband services in our area:
Broadway Partners, see their presentation below. Simon Williams is the co-ordinator for this supplier www.facebook.com/groups
Openreach, Sion Wilcox is the co-ordinator for this supplier www.ffairfach.weebly.com
These co-ordinators will work with the suppliers to provide zoom calls for the communities once discussions around the proposals are sufficiently detailed. The steps outlined are:
1. Share the 3 proposals and postcodes we want covered with Openreach and Broadway Partners and ask them for:
an estimate for each proposal
within each proposal, estimated cost at each premise level address
Ask them for the earliest start date they could begin within signing of a contract say in April/May
Ask them for the estimated completion date of the complete work package
Ask them to provide a project plan which shows us the sequence of work at postcode level, so we can see roughly when each postcode will be worked on
What are the risk factors they have identified for the work which may prevent the work being completed for a given premise
2. Confirm with both suppliers they are happy to allow ducting on private land to be completed by the land/property owner as a way to keep costs down for an individual premise
3. Ask each provider when they will be providing us with the completed estimates for the proposals
4. It's unlikely, but we will ask both suppliers if they would consider partnering with each other to get the work done quicker
---
5th January 2021
Following on from the Broadband Upgrade Fund campaign, you may be aware that suppliers have expressed an interest in your area. To see which suppliers are interested in your area you will need to log in to the portal – Log in | Broadband Upgrade Fund (campaign.gov.uk) At this stage there are still no contractual obligations by either party to proceed.
1. Broadway Partners have expressed an interest in your area, they have asked that you receive this presentation on their behalf. Please see below. For more information please contact – info@broadwaypartners.co.uk
Broadway Partners presentation
2. Beacons Telecom have also expressed an interest in your area and are offering online meetings for a chance to discuss further.
Map they shared in the presentations – it shows the potential maximum speeds for properties in our area: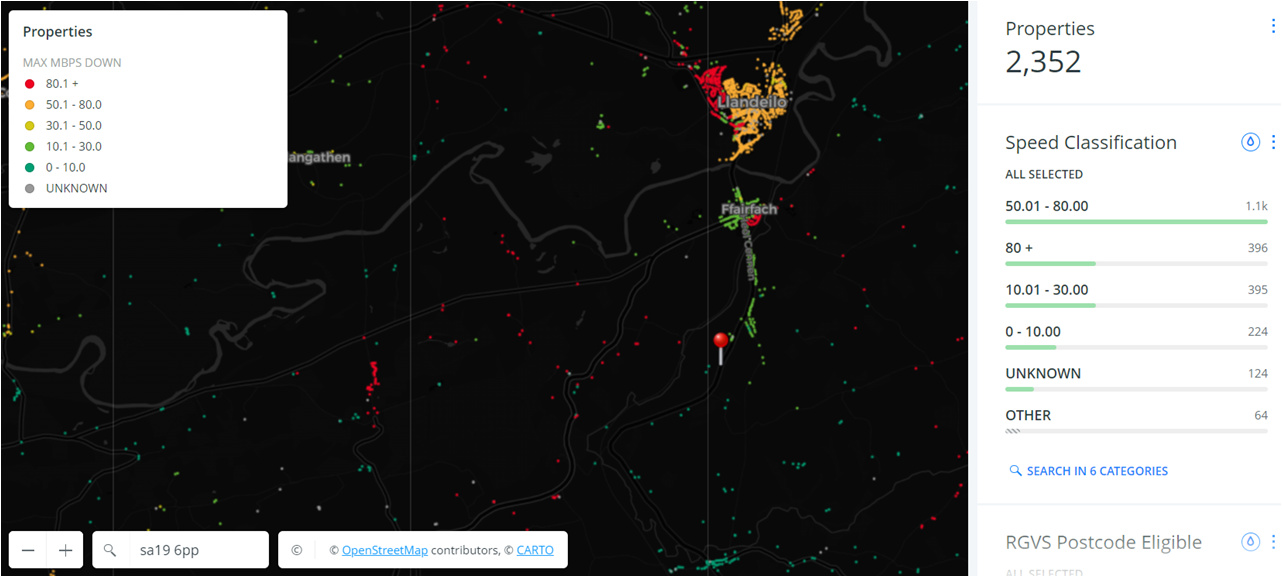 ---
Please use the Comment section below if you would like to ask any questions or give any feedback: