19, Carmarthen Street, Llandeilo.
Y Pantri Glas is a small independent organic retailer selling natural foods, organic vegan beauty products and environmentally-friendly household cleaning refills, all cruelty and single-use plastic free.
We have a range of locally grown and organic fruit and veg, fresh each week.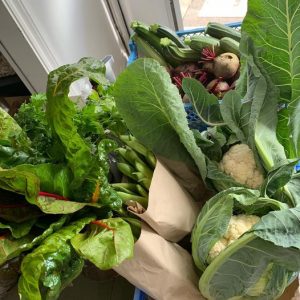 We encourage customers to bring their own containers when buying refill foods – you can buy what you need not what the pack size dictates.
"Drop & Collect" available – leave your list and containers for us to fill whilst you do other shopping or have a coffee down the road.
Online ordering available for Friday or Saturday collection (local delivery on a Friday). Visit our online shop at wwww.openfoodnetwork.org.uk/y-pantri-glas/shop
Opening Times: Tues – Sat 10am to 2pm (4pm on Friday)
Contact Candace, Cathy and Fay
Tel: 01558 824672 or 07486 886674
Email: YPantriGlas@gmail.com
Facebook: www.facebook.com/YPantriGlas
Website: www.ypantriglas.cymru
Online shop: www.openfoodnetwork.org.uk/y-pantri-glas/shop
---