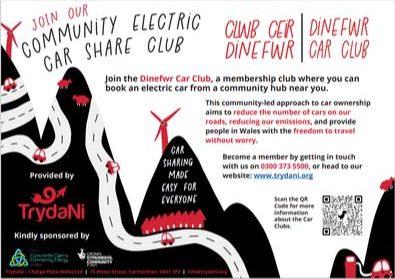 Ynni Sir Gâr are very excited to be working with partners at TrydaNi and Community Energy Wales to develop a project to establish an electric community car club in the Dinefwr area. The purpose of the club is to offer an affordable option for local people to travel more sustainably, where public Transport is not convenient, or active travel impossible. The aim is also to encourage households with more than one car, to consider using the car club as their second car when needed (in the process contributing to taking carbon emitting cars off our roads).
See examples of the costs of hiring the car on Ynni Sir Gâr's website here: www.ynnisirgar.org/costings
If you would like to hear more, or interested in joining the club, you will need to become a member by filling in an application form. You will then be given an introduction session to familiarise yourself with the car, how to charge the car, and organising a trip. Contact your local coordinator by emailing sioned@ynnisirgar.org to hear more.
So, if you want to get rid of your petrol car (especially if it's a second car) then please consider joining your local community car club!
---