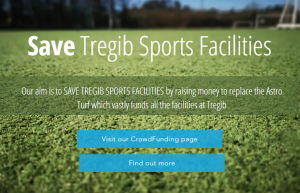 Achubwch Gyfleusterau Chwaraeon Tregib
Our aim is to SAVE TREGIB SPORTS FACILITIES by raising money to replace the Astro Turf which vastly funds all the facilities at Tregib.
Ein nod yw achub CYFLEUSTERAU CHWARAEON TREGIB trwy godi arian i adnewyddu'r  'Astro Turf' sy'n ariannu'n helaeth holl gyfleusterau Tregib.
The Astro Turf is the main income generator for the whole facility and then subsidises the rest of the facilities, for all of the other groups/users to have the benefit of sustainable prices and the use of the Sports Hall, Gym, Changing room facilities etc.
The reality is WITHOUT THE ASTRO TURF THERE IS NO TREGIB SPORTS FACILITIES.
The sports facilities at Tregib are used by 1,000s of people and in excess of 20 clubs and groups every year. Many of the users have shared with us just some of the benefits they experience from using the facilities:
Reduces social isolation
Improves physical health and mental well-being
Opportunity to learn new skills
Promotes team ethics
Improves confidence
Allows sports to continue in the winter season
Builds community relationships and involvement
Makes use of a facility that would otherwise have been left derelict
We are active in sourcing and securing additional funds through local government, other grants, clubs and organisations and sponsorship from businesses. Our Crowdfunded campaign is an opportunity for the local community to support our fundraising efforts and get involved.
Visit our Crowdfunding page: www.crowdfunder.co.uk/p/save-tregib-sports-facilities
For more information and to share your stories: www.facebook.com/tregibsportsfacilities