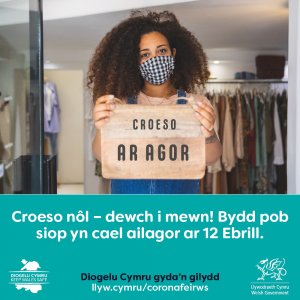 Dear friends, residents and visitors to Llandeilo,
As you will be aware non essential shops re-opened on Monday 12th April and many of our bespoke shops in Llandeilo will make use of the new rule – naturally responsibly with social distancing rules applied.
Many of the food outlets and restaurants offer take outs.
As shops, hotels and other venues are adapting to the new situation up to date information can be found on the following facebook page: www.facebook.com/LoveLlandeilo
ITV News report: www.itv.com/news/wales/2021-04-11/retailers-across-wales-prepare-for-non-essential-stores-to-reopen-on-monday
---
Annwyl ffrindiau, preswylwyr ac ymwelwyr â Llandeilo,
Fel y gwyddoch, bydd siopau nad ydynt yn hanfodol yn ailagor o ddydd Llun a bydd llawer o'n siopau pwrpasol yn Llandeilo yn defnyddio'r rheol newydd  gyda rheolau pellhau cymdeithasol yn cael eu gweithredu.
Mae llawer o'r siopau bwyd a bwytai yn cynnig gwasanawth cymryd I ffwrdd.
Gan fod siopau'n addasu i'r sefyllfa newydd gellir dod o hyd i wybodaeth gyfoes ar Facebook:  www.facebook.com/LoveLlandeilo