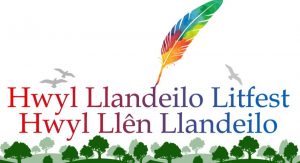 25th – 28th April 2019.
The festival is a four day programme of literary events running from Thursday 25th to Sunday 28th April.
During the festival readings, discussions, workshops and literary talks will take place across Llandeilo – at the Ginhaus, Horeb Chapel, Eve's Toy Shop, Fountain Fine Art Gallery, The Little Welsh Dresser, Igam Ogam, The Hangout, Mimosa Art Gallery, The Cottage Inn and the Angel Inn.
Cynhelir yr Wyl eleni o ddydd Iau, 25 i ddydd Sul, 29ain Ebrill. Bydd cyfres o ddarlleniadau, trafodaethau a gweithdai yn digwydd mewn nifer o leoliadau yn y dref – yn Capel Horeb, Siop Degannau Eve, Oriel y Ffynnon, yr Angel, Little Welsh Dresser, Igam Ogam, yr Hangout, Oriel Mimosa, Tafarn y Cottage a'r Ginhaus.
More information: www.facebook.com/LlandeiloLitFest | www.llandeilolitfest.org