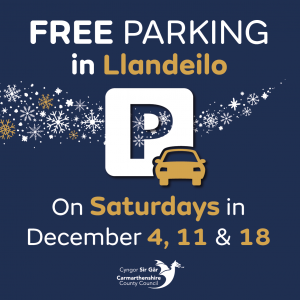 Free Parking – Saturday 4th, 11th and 18th December
Take advantage of our town centre free parking days and support local businesses in the run up to Christmas.
Carmarthenshire County Council have approved requests from some town councils to allocate free parking days in council-run car parks during December – these are in addition to the usual free parking periods in our short stay car parks already running throughout the year in Carmarthenshire towns.
More information: www.carmarthenshire.gov.wales/home/council-services/travel-roads-parking/parking/car-park-charges
Free Car Parking is available in the Crescent Road Car Park from 10am to 2pm on Monday, Tuesday and Wednesday.